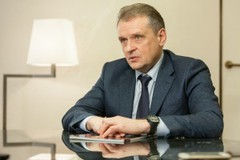 Agriculture is one of the most powerful branches of the economy of Ukraine. Today almost every second dollar which Ukraine gets due to exports of goods is the money received from selling grains, oil, sugar, poultry and other agrarian commodities. But doing agrarian business in Ukraine is not as simple as it may seem. You should be really smart, persistent and ready for any surprises from the Government, says Leonid Kozachenko, the President of the Ukrainian Agrarian Confederation, Ukrainian MP.
What is it like to be a farmer in Ukraine and why do agrarians have to be united? These and other questions were directed to Mr. Kozachenko, and his answers may totally change the way you see the agrarian business in Ukraine.
Mr. Kozachenko, while speaking about the global agrarian market, could you define Ukraine's role there?
In my speeches at different international conferences, in private talks with foreign partners or during the meetings in the Ukrainian Government I have always tried to convey the message: we live in the world where the country producing food for export appears to be stronger than the country possessing weapon. Every day thousands of people on our planet die because of starvation – their number is much bigger than the number of people who die at wars in different parts of the world.
Today Ukraine sells agricultural products to almost 200 countries of the world. Our country takes the second place in cereal exports, the fifth-in corn, the third - in barley and the sixth one in wheat exports to the global market. And of course, Ukraine is the absolute world leader in sunflower oil exports.
What is the potential of Ukrainian agricultural exports?
There is no other country in the world which has such great opportunities to increase its agricultural exports. Our line-of-food exports could be raised up to 80% of the total country's production in the next 10-15 years. I mean, that Ukraine is able to produce such big amount of agricultural products that only 20% of it would be enough to meet the requirement of the domestic market. The remaining 80% could be supplied abroad.
For example, Ukraine has already taken the first place on the Chinese corn import market. We even managed to leave behind such a serious competitor as the United States of America. The main reason for this success is that our corn is not genetically modified. So, the PRC, where GMO containing corn is prohibited, prefers buying our product. By the way, in the nearest future the Chinese demand for food is expected to increase significantly. Recently, I visited the PRC as a member of the official Parliament delegation and we had a lot of meetings with the officials there. They supposed that in 10 years China would have increased its import of grain by 50 million tons, of meat by more than 5 million tons and of dairy products by about 10 million tons.
Furthermore, the Middle East, North Africa and Indochina are also very interesting markets for Ukrainian traders.
What is the main feature of Ukrainian agribusiness that makes it so competitive?
You should understand that agriculture in Ukraine has always been a truly modern industrial sector. Here is just one example to illustrate it. In 1983 I became the chairman of the biggest collective farm in Kyiv Region. Even then we were already using computers to manage different processes while most people in the world hadn't seen them yet. A few years later, during my stay in Europe I visited the headquarters of one of the world's biggest chemical companies whose representative tried to surprise me by showing a personal computer. But unfortunately, he failed to start it because of the lack of experience in doing that. I asked him not to worry and showed how to operate the device. At that moment I realized how modern the agriculture of Ukraine was.
It's quite obvious that my country and Europe have been using totally different models of agribusiness development. While Europe has been traditionally the territory of small agricultural family farms, Ukraine is the country of big vertically integrated agrarian companies.
Today the biggest agrarian company in Europe is located in Ukraine – it is the UkrLandFarming PLC which is currently cultivating about 700 000 hectares of arable land.
Ukrainian agrarian holdings, producing agricultural commodities, are using modern technologies practically in every aspect of their business. They are using personal modern software to control both input and output of production fluctuation. They control a personal share in business done by each employee. Besides, they are interested in the quality of every planted seed and want to know the exact number of seeds sown on each meter of a field. And, the consumption of fertilizers and fuel is also constantly under total control.
Another advantage of big holdings is that all its companies work closely with each other. The question on agricultural commodities prepared for sale, price risk hedging procedure is always a common decision. What is also really important for the companies is to be able to diversify product range and directions of sales in order to avoid fluctuating price risks forecasted by reputable world organizations. Their analytical departments collect and process information about sowing campaign and harvesting in other countries and monitor prices at different world markets. So, if you want to succeed in agribusiness you should use high technologies and have a big team of professionals.
As for little family farms, they are not able to use modern technologies on such a large scale. Although they can be really successful in growing niche crops, they must be sure that the state will subsidize them.
And what about supporting farmers by the Government? Do farmers feel it?
If we count the state support per one hectare of land, it turns out that Ukrainian farmers get only 1/80 of that amount of money which is usually received by European farmers from their governments.
Actually, we have paradoxical situation today. Agrarians are the biggest taxpayers in Ukraine; they are filling up the state budget and provide the inflow of currency from abroad. But still, they can't get enough money from the Government even though they really need a help. For example, dairy farms are having hard times now. However, they get such small state support that can hardly survive.
How much tax does agribusiness pay?
In 2016 agrarian companies paid to the state budget about 93 billion UAH. But, they will get from the Government only about 4 billion UAH as subsidies this year.
Mr. Kozachenko, you are a well-known and influential politician. What can you say about agrarian lobby in the Ukrainian Parliament?
Well, this lobby is not as big as it may seem. Contingently, it consists of two groups - deputies who represent interests of big companies and deputies who usually say that they are representing interests of small farmers.
Which group do you belong to?
I always take an objective stand. Of course, agro holdings are very important for Ukrainian economy and the Government should not make new problems for them. But on the other hand, little farmers really need much more support than agro holdings and we must help and protect them. It's very important to keep a balance between these two absolutely different directions of agribusiness because if we support only one of them, we will bring dramatic negative changes to Ukrainian economy.
In your opinion, is Ukraine ready to open the land market?
Sooner or later we must do that. But before opening the land market Ukraine has to proceed to the "grind" land legislation.
You know, only a few countries are left in the world where there is no ownership on land. Among them there are North Korea, Cuba, Belarus and Ukraine. All the other countries passed that stage long ago.
So why has the land reform in Ukraine stretched for such a long period?
Yeah, it has been going on for almost 25 years already. And now we have a situation when farmers are afraid of opening the land market. All previous attempts to finish this reform contained deceptions and were inventing new forms of corruption. We spent a lot of both time and energy not to allow launching such "reforms". Even now people don't believe the Government to be different from that it has been before. There are still some fears of being deceived again.
How is it possible to solve this problem?
I see only one solution. We have to open the land market bit by bit and start with one or two pilot regions. First we have to test new land legislation in order to avoid any hidden disadvantages and dangers. Land owners and potential buyers must be sure that their interests are completely protected. And only after people see what the benefits of the land market are, how it works, what a real price of land is, we'll be able to complete this reform throughout the country.
What is your attitude towards foreign buyers?
Ukrainian land is a very interesting subject for foreign agrarian companies, it's true. Unfortunately, today Ukrainian farmers don't have enough money to compete with foreigners in buying land. So, there is a danger that foreigners might buy out all best fields of land available.
I'm sure that on the first stage of the land reform Ukraine has to impose a moratorium for foreigners. In such a way we could protect our national agribusiness and give it a certain advantage in further competition with foreign companies. This moratorium may continue for 10-15 years. And after that we'll be able to absolutely liberalize land market and cancel all limitations.
In your opinion, what are the other main terms of the land reform in Ukraine?
To work out a proper framework for a true competition among the potential land customers we have to determine the maximum amount of land that buyers can purchase. And also, it is very important to determine who will be given a priority to purchase land.
In my opinion, on the first stage of the land reform only individuals should be allowed to buy land, but not big companies. The maximum amount of land available for purchase should be limited to 250-500 hectares.
Mr. Kozachenko, how do you see the role of the Ukrainian Agrarian Confederation in agrarian politics and business today?
The Ukrainian Agrarian Confederation is a bridge between agrarians and officials. The UAC is the first biggest agrarian public organization in Ukraine which unites other smaller agrarian associations. Now we really have a lot of work to do but we are happy that our efforts have a positive influence on doing agribusiness in Ukraine.
To sum up, I strongly believe that all Ukrainian farmers should be united to keep things under control. We must hold on big professional