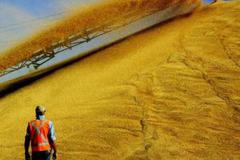 The battle between farmers and Ukrzaliznytsia is going on. "Record Harvest Spells More Trouble for Conflict-Hit Ukraine" is a title of new Bloomberg's article [2].
According to Bloomberg, as if Ukraine's battered economy and political conflicts with Russia weren't dismaying enough, a logjam on the country's Soviet-era rail network is preventing some farmers from shipping bumper harvests in the breadbasket of Eastern Europe.
A record supply of crops, from wheat to corn to sunflowers, is overwhelming the capacity of a money-losing rail monopoly that hasn't added a new freight locomotive in almost five decades and can't keep up with the pace of repairs on battered and broken grain wagons. Longer waits to secure transport are disrupting deliveries in a country that is one of the world's biggest shippers of grain.
"I asked for eight wagons for corn and was told that none were available," said Yevhenia Fedoruk, logistics chief at UkrAgroCom & Hermes-Trading, an agricultural producer and trader in Ukraine that owns farms and storage facilities. "Sometimes our workers do basic welding on wagons -- better than rejecting a damaged car and waiting for a replacement indefinitely."
While the amount of grain shipped by rail increased in recent years as Ukraine's agriculture industry expanded, the number of rail cars fell because junked wagons weren't replaced by the Ukrainian Railway Co., or Ukrzaliznytsya. This year, the sheer volume of crops during the harvest is compounding strains on the delivery system in a country that is among the biggest exporters of sunflower oil, barley, rapeseed, corn and wheat.
Production of Ukraine's seven biggest crops will jump to a record 85.8 million metric tons in the 2016-2017 season, according to the U.S. Department of Agriculture. Grain exports are forecast by Kiev-based researcher UkrAgroConsult to rise 6 percent to a record 40.7 million tons, adding to pressure on railroads connecting fields to export terminals on the Black Sea.
The country sees a grain harvest of 64 million tons this year, also an all-time high, Agriculture Minister Taras Kutovyi told Interfax.
Ukrzaliznytsya, which controls rail lines in Ukraine and almost two-thirds of its grain wagons, failed for years to invest in replacing equipment, including grain hoppers, according to Chief Executive Officer Wojciech Balczun. The 46-year-old previously ran Poland's biggest rail-cargo company. He took over in June with a mandate to turn around Ukrzaliznytsya, which lost about 16.8 billion hryvnia ($645 million) last year, after losing 15 billion hryvnia in 2014, as a war with pro-Russian rebels in the nation's east devastated cargoes.
"The number of wagons is in constant decline," Balczun told the government Nov. 2 at a televised meeting. "We have problems now not because something fell apart today. For many years, Ukrzaliznytsya has been using up and wearing out its reserves."
Off Wagon
In the three years through 2015, the company disposed of 192 grain hoppers that weren't replaced, according to the Centre for Transport Strategies. As of March, eight more had been discarded this year. Each hopper can carry about 70 tons of grain.
Repair work is chronically slow, with the company fixing just 18 of the 132 locomotives it scheduled for restoration in the first half of 2016, according to Balczun. About two-thirds of Ukrzaliznytsya's 11,650 grain wagons are already operating beyond their intended lifespan. That will rise by 1,690 next year and 2,055 in 2018, the company says.
A minimum of 5,000 new hoppers a year are needed, according to Volodymyr Klymenko, head of the Ukrainian Grain Association. As a result, demand is at least 30 percent higher than supply, even before an expected in